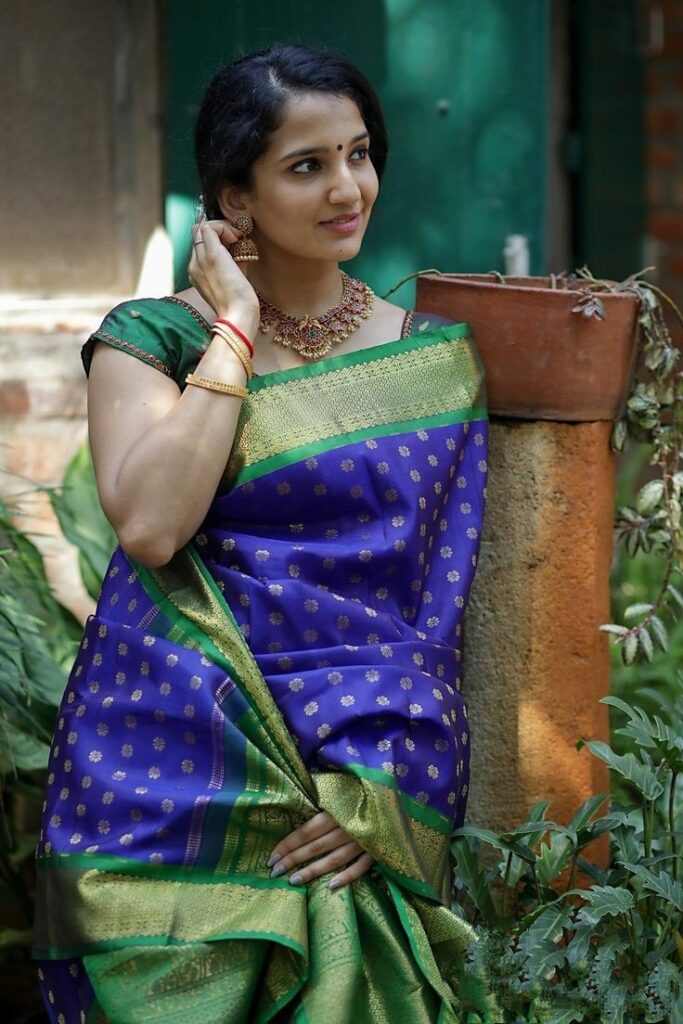 Who doesn't like that gorgeous 6 yards long wrap? Sarees are the all-time favorite outfit for all the Indian beauties. It is gradually starting to get recognized worldwide. Now, we have innumerable options regarding which saree to be chose. The one, that stands out of all the sarees, is the Banarasi Silk Saree from the royal city of Varanasi. 
It has the royal feel in itself. These are some of the finest sarees in terms of material used and are known for their unique silver brocade and opulent embroidery designs. 
Are you willing to pile up the empty spaces of your closet with the gorgeous Banarasi Silk sarees but have no idea how to choose the perfect one? 
Keep reading!
If you were opting to wear or gift your loved ones, a Banarasi Silk saree is perfect to choose for a special occasion.
Banarasi Saree-History
During the Mughal period, weaving of silk attires with beautiful designs using gold and silver threads was the specialty of Banaras weavers. The silk brocade waving started during the 17 century upon the arrival of the Gujarat weavers and was fully developed during the 19th century. In the 19th century, Banaras was famous for its cotton textile industry. In 2009, the Uttar Pradesh weavers received the GI tag for Banaras brocades and sarees.
Types of Banarasi Sarees-
Based on the silk used:
It has four prominent varieties.
· Pure Silk known as Katan, 
· Organza known as Kora with Zari and Silk 
· Georgette, and 
· Shattir.
Based on the design:
They are divided into 6 categories-
· Jangla, 
· Tanchoi, 
· Vaskat, 
· Cutwork, 
· Tissue, 
· Butidar.
Nowadays, we can spot our favorite celebrities donning beautiful Banarasi Silk sarees for various occasions and award shows. Banarasi sarees have always won the top choices for all the brides in India. The sari itself is an enhancer to make your beauties look special on special occasions.
How to choose the perfect banarasi silk saree for you?
Every occasion depends on a specific type or design of clothes. Choose the perfect banarasi drape that fits the occasion the best. For the marriage party, you can opt for the authentic heavy-designed royal set or can opt for simple organza for an engagement party. 
Get right blouse for your Banarasi saree.
In today's fashion trend, a blouse always steals the show. When donning with the royal banarasi saree, pairing it with the right blouse pattern and texture is necessary to get the perfect look. One of the key tips to select the right blouse is to pair it with the matching zari or motif work of your saree.
Here are some of the blouse pattern and styles you can pair up with your Banarasi Saree for a more enhanced look-
· An embroidered blouse with patterns similar to your saree work.
· A simple sleeveless blouse fits it all. Be it a gorgeous heavy saree or a simple one the blouse fits all.
· You can opt for a more authentic vibe pairing it with elbow length blouse with matching borders of your saree.
· Brocade Blouse, the perfect go-to blouse with a Banarasi Saree.
How to care for your Banarasi saree?
All clothes need proper care to retain the quality for longer use. But for heavy work attires like Banarasi, we cannot wash it. We need to take special care to keep it at the best of its quality. Here are some tips you can follow:
· Do not keep your Banarasi Saree hanging on a hanger. It can crease your saree permanently.
· It is always a better option to store your Banarasi saree in a muslin cloth.

· Do not spray perfume on your saree; it will stain the saree.

· Stay away of the water; when wearing a Banarasi Saree.