Who does not like that gorgeous 6 yards long wrap? Sarees are the all-time favorite outfit for all the Indian beauties. It is gradually starting to get recognized worldwide. We now have innumerable options out there regarding which saree to choose. The one that stands out of all the sarees is the Banarasi Silk Saree from the royal city of Vansarasi. It has the royal feel in itself. These are some of the finest sarees in terms of material used and are known for their unique silver brocade and opulent embroidery designs.
Are you willing to pile up the empty spaces of your closet with the gorgeous Banarasi Silk sarees but have no idea how to choose the perfect one?
Bandhani is one of the beautiful and everlasting trends in sarees, kurtas, salwar suits, etc. It gives you an essence of Indian culture, especially Gujrat and Rajasthan, in your clothing. The charm of Bandhani Sarees is so intoxicating that people from rural areas to Bollywood; everyone has it in their wardrobe. You can see these prints and designs on 'Jholas', dupattas, shirts, etc. The dyes for these designs mostly come from plants, flowers, leaves, barks, etc. In earlier days, people were using vegetable dyes for Bandhani prints. However, the chemical dyes are slowly and steadily replacing the vegetable and organic dyes. Most individuals like bright colours for their Bandhani clothes like yellow, orange, green, pink, red, and maroon. It creates a fashion statement for your clothes when you step out with those vibrant colours.
Saree is an example of the oldest and longest Indian garments in the world. Its length is from 6-9 yards than all garments and can be drape in more than 100 styles. With time, sarees have also evolved to become easier to wear. Pre-stitched sarees, pre-pleated sarees, concept sarees, lungi sarees, and saree gowns are some such avatars of the saree. Sarees are the symbol of beauty when adorned by Indian beauties. 
Sarees enhance the grace of women. Saree is one of the Indian outfits Loved by women, irrespective of their age, colour, caste, and creed. Well, sarees are the most fashionable piece of Indian wear. A saree doesn't need a particular body type. Anyone can wear this for any event, whether healthy or thin.
If you are planning to go to any marriage function or small religious program, you prefer to wear an Indian traditional outfit the first name that comes to your mind is saree. Saree gives us a very graceful look. At the same time, it looks fashionable.
Saree: The Perfect Gift for Women's Day
Women's Day is a special day that celebrates the achievements and contributions of women to society. It is a day to honor the strength, resilience, and determination of women, and to show appreciation for their hard work and dedication. One of the best ways to celebrate Women's Day is by giving the gift of a saree. In this article, we will explore why sarees make the perfect gift for Women's Day.
Sarees are a traditional Indian garment that is loved by women across the country. They are a symbol of grace, elegance, and beauty, and are often worn for special occasions such as weddings, festivals, and religious ceremonies. Sarees come in a variety of colors, designs, and fabrics, making them suitable for different preferences and occasions.
Top 10 trending saree fashion
Sarees are most popular amoung Indian Women. Here are top 10 trending and most popular saree fashion
1. Traditional Sarees: Traditional sarees never go out of fashion, and continue to be a popular choice for special occasions like weddings and festivals. These sarees come in a wide range of materials, such as silk, cotton, and chiffon, and feature intricate embroidery, embellishments, and designs.
2. Floral Prints: Floral prints have made a comeback in the world of saree fashion, and are a popular choice for both casual and formal occasions. These sarees come in a variety of colors, patterns, and designs, and can be paired with a variety of accessories to create different looks.
3. Ruffle Sarees: Ruffle sarees are a modern twist on the traditional saree, and feature ruffles and frills along the hemline and pallu. These sarees come in a variety of fabrics, such as georgette and chiffon, and are perfect for special occasions like weddings and parties.
4. Metallic Sarees: Metallic sarees are a popular choice for evening wear, and come in a range of materials, such as satin, georgette, and silk. These sarees feature metallic threads, embellishments, and designs, and are perfect for adding a touch of glamour to your outfit.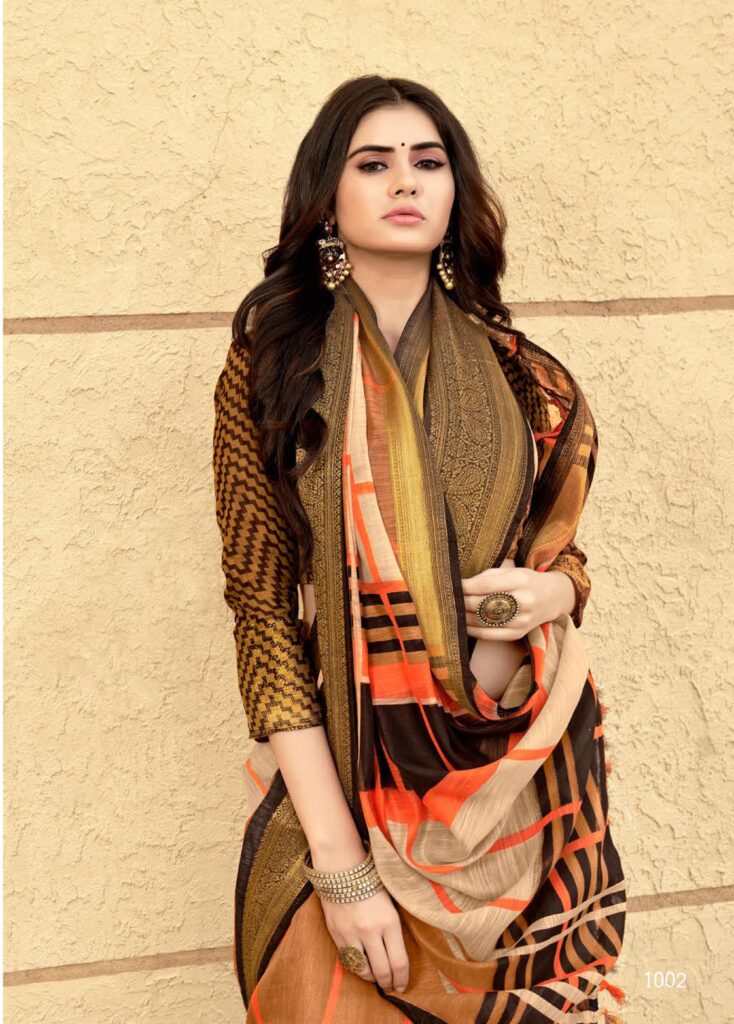 The Timeless Elegance of Cotton Sarees: A Closer Look at a Classic Tradition
Introduction: Cotton sarees have been an integral part of the rich and diverse tapestry of Indian culture for centuries. These timeless garments not only embody grace and elegance but also reflect the country's deep-rooted heritage and craftsmanship. From their exquisite weaves to their vibrant colours, cotton sarees have captivated the hearts of women across generations. In this article, we delve into the charm and significance of cotton sarees, celebrating their versatility, comfort, and enduring appeal.
The Cotton sarees gives a pure comforting ease. Cotton Sarees are the most preferred sarees for Indian Women. You can exploit cotton sarees in your every day wear especially during the summer.
The allure of our Indian cotton saree is timeless. The Cotton printed sarees indeed give a classy, feminine, refined and elegant look to any lady.
Place is famous for cotton sarees